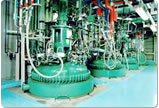 Sigmasil is uniquely positioned to be innovative and customer-focused silanes and silicon-based material performance-enhancing solutions, intermediates and specialized chemicals value-added partner worldwide.

Sigmasil specializes in formulating, producing and distributing silane adhesion promoters, coupling agents, crosslinking agents, dispersing agents, surface modifiers and silicone chemistries. Our primary silicone materials are Alkyl/Alkoxy, Amino Silanes, Acetoxy crosslinkers, Vinyl Silanes, Epoxy Silanes, Mercapto Silanes, Methacryl/Acrylate Silanes, Sulfur Silanes, Oxime crosslinkers, Ureido Silanes, Chlorosilane, Fluoro silanes and some specialized siloxanes. With a full range of versatile silanes, silicon-based material expertises and innovative solutions, state-of-the-art manufacturing operations, reliable supply, free technical supports and trouble-free formulations, Sigmasil helps customers success in fiberglass, plastic or rubber compounding, foundry, water-repellent, polymer synthesis, material treatment, coating, adhesive and sealant industries.
Our expertise in silicon chemistry, innovative solutions and market-oriented R&D helps customers grow their business, increasing productivity and expanding market share. Nowadays Sigmasil delivers silane coupling agents, silane crosslinkers, silicone elastomers and fumed silicas into more than 30 countries around the globe as an alternative supplier and allies. This development is mostly due to our company's philosophy:

Reliable Quality, Competitive Pricing and Flexible Service.

These are the attributes we grant first priority, total customer satisfaction and competitive advantage are guaranteed meanwhile. Great Service, Great People and Great Products have been and will always be the main ingredients of Sigmasil. Integrated quality systems are continuously improving in Sigmasil makes customers throughout the world feel assured that our products and services will meet or exceed their requirements.

We would welcome the opportunity to assist in adding value to your supply chain management through our diverse range of silanes, siloxanes, silicone-based solutions to various industries.
Tony Wang
Managing Director
SIGMASIL CHEM CO., LTD.